By: Maryellen Weimer, PhD in Teaching and Learning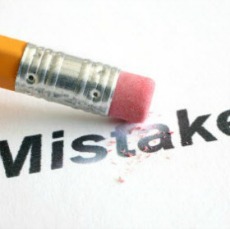 We regularly tell our students "Don't be afraid to make mistakes. You can learn from your mistakes." Most of us work hard to create classroom climates where it's okay to make mistakes. We do that because if we're there when the mistake is made, we can expedite the learning, and because we know that everyone else in class can learn from those mistakes.
We know all this because most of us have long histories of learning from our own mistakes. It started in school, continued in college and graduate school, and happens all the time in our scholarly work. Most of us also realize that more can be learned from a mistake than from a triumph. Mistakes have a way of opening us up to learning.
But you know, most of us don't handle teaching mistakes the same way. I suspect this partly derives from the long history of teaching being a private activity—something we do in our classrooms, alone, often with the doors closed. It's also tied up with how teaching is an expression of who we are as people, which makes mistakes a matter of personal integrity. Aren't we a bit like our student writers and performers who are so vested in what they write and perform that they cannot separate the person from the performance?
Sometimes the decision not to talk about teaching failures, troubles, or less-than-successful approaches is a political one. We don't need to have the department chair or our senior colleagues thinking we aren't doing all that well in the classroom. And that does make sense, but even very senior faculty (like me) find ourselves reluctant to talk about things that don't work well. When we meet with colleagues to talk teaching—in my workshops, for example—invariably what's shared is a success story. They're good and they add to the exchange, but not everything we do in the classroom is a success. We don't talk about what didn't work, sometimes even to ourselves.
I hold in particularly high esteem those faculty members not only willing to talk about teaching failures but also to publish articles about them. At the end of this article I've listed a collection of my personal favorites. You can't read them without admiring the courage of the authors. But you also can't read them and be unimpressed by how much they learned through the analysis. Each one is an exemplar of the kind of critical reflection that fosters growth. This is reflection that makes us wise and wonderful teachers. And finally you also can't read these articles and not realize how much there is for us to learn from one another's mistakes. I'm definitely in favor of more articles like these, but there is one caveat. It might be better if they were published after you have tenure or a continuing contract.
I'm advocating more confrontation with what doesn't work, more analysis of why, and more discussion of the instructional complexities that render great teaching ideas, strategies, and approaches dead in the water with some students and in some classes. We need to heed the advice we give students. Mistakes are there to be learned from, but only if there's a willingness to confront what happened and why. Let the articles below inspire you to analyze something that didn't work but offers lessons that can be learned. And don't be shy about asking for a little help from your friends. After all, we've all had those days and those classes where we didn't get it right.