Training in NUEPA for principals was an eye opener for all of us. The modules which NUEPA team headed by a visionary Vice Chancellor – Prof. Ved Prakash and co headed by Prof. Najma Akthar and their team members naming Dr. Y. Josephine, Dr. R.S.Tyagi, Dr. Manju Narula covered were: 
School Leadership
Conflict management
Understanding and managing self
Globalization and challenges for school education
Decision making and problem solving skills
Personality development
Stress managament
RTI Act
Accounting and Auditing in Schools etc.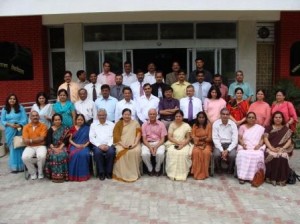 Each of the module was a eyeopener to all the participants.  This made us understand the paradigm shifts in the school education  in this rapid changing world and also developed our leadership skills.
If you are intrested in Powerpoint Presentations on the above workshops Please write on admin@schoolofeducators.com and I shall send them to you personally.
I VC, Prof. Najma, J.K. , Bindu , Archna all are in the above Photograph.
Vishal Jain
Editor
Comment
---